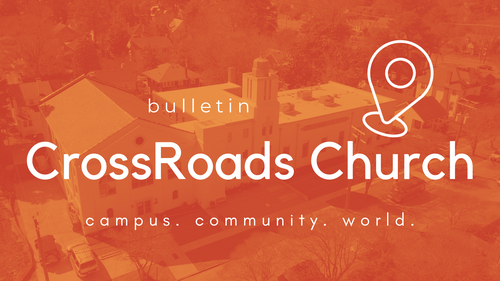 Our app and new website are live. You can download the app in the Apple or Google Play store by searching CrossRoads - Norfolk.
Production Booth Volunteers
With all of the recent updates that have come and are to come, we are in need of production volunteers. If you are interested in joining the team to serve,
click here
!
If you are in need of help or want to help out with serving others in our community - please fill out this form -
click here
!
Every week, Cassie, our Children's Director, provides worship videos, activity sheets, and zoom call. Go to the app and click on Online Children's Church or the website under Children's tab for content. Contact
Cassie
for more info.
We will be reopening on Sunday, June 28th with ticketed limited seating available
here
.
The purpose of a microsite is to provide space for to connect with God and each other by worshiping along with the main campus via livestream on Sunday Mornings. In our current situation as a church, microsites are an option for those of us that would prefer to meet in smaller groups in a home or in a communal space. Join a microsite
here
!
Memorial Service for Hannah Landon
"Town Hall" Discussion for Families
On August 10-16, we invite you to walk a mile or more each day, walking with our Goers and praying for the unreached. To cap the week off, walkers invite friends to the Global 5K (3.1 miles), raising awareness and mobilizing prayer for the 3.1 billion unreached. Learn more and sign up at Gocorps.org/walk. Contact Melody for more info, 757-621-3605 and melody@gocorps.org.
Memorial Service for Hannah Landon is Wednesday at 11AM at CrossRoads. Please pray for the Landon family during this season.
Click here
to give money for a reception for the Landon family.
We are hosting a "town hall" style discussion for CrossRoads families to come and discuss education ideas, concerns, and learn how we can best serve you all in this season. The meeting will be on Tuesday August 4th at 7pm. You can zoom into the meeting, or meet in person.
Please fill out the form to RSVP with what your preference is
. We look forward to hearing from you, seeing you, and serving you in this difficult time.
Nick and Genevieve Daniels
Nigel "Legin" Anderson New Release